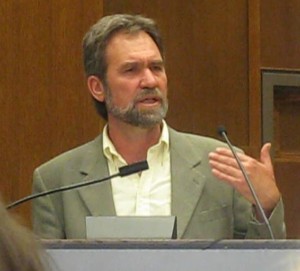 Daryl Copeland, Fellow at the Canadian Global Affairs Institute and Policy, Senior Advisor for Science Diplomacy at the International Institute for Applied Systems  Analysis (Vienna), and Fellow at the University of Montreal's Centre for International Studies and Research  (CERIUM) is an analyst, author, educator and consultant specializing in the relationship between science, technology, diplomacy, and international policy. His book, Guerrilla Diplomacy: Rethinking International Relations, was released in 2009 by Lynne Rienner Publishers and is cited as an essential reference by the editors of Oxford Bibliographies Online. A frequent public speaker, Mr. Copeland comments regularly for the national media on global issues and public management, and has written 12 book chapters and over 200 articles for the scholarly and popular press. His work has appeared in many anthologies, as well as in the International Journal, World Politics Review, Foreign Policy in Focus, The Hague Journal of Diplomacy, Place Branding and Public Diplomacy, the Canadian foreign Policy Journal, the Globe and Mail, Toronto Star, Ottawa Citizen, iPolitics, Embassy, Policy Options, The Hill Times , The Mark and elsewhere. He was awarded the 2010 Molot Prize for best article published in Canadian Foreign Policy ("Virtuality, Diplomacy and the Foreign Ministry", 15:2) and in 2000 he received the Canadian Foreign Service Officer Award for his "tireless dedication and unyielding commitment to advancing the interests of the diplomatic profession."
From 1981 to 2011 Mr. Copeland served as a Canadian diplomat with postings in Thailand, Ethiopia, New Zealand and Malaysia. During the 1980s and 1990s, he was elected a record five times to the Executive Committee of the Professional Association of Foreign Service Officers. From 1996-99 he was National Program Director of the Canadian Institute of International Affairs in Toronto and Editor of Behind the Headlines, Canada's international affairs magazine.
Among his positions at the Department of Foreign Affairs and International Trade (DFAIT) in Ottawa, Mr. Copeland has worked as Senior Intelligence Analyst, South and Southeast Asia; Deputy Director for International Communications; Director for Southeast Asia; Senior Advisor, Public Diplomacy; Director of Strategic Communications Services; and, Senior Advisor, Strategic Policy and Planning. He was DFAIT representative to the Association of Professional Executives (APEX) 2001-06.
Mr. Copeland recently completed a four year term as Visiting Professor at the Diplomatic Academy of Vienna (2014 – 18), and has taught at Loughboruugh University London's Institute of Diplomacy and International Governance (UK); the University of Ottawa's  Graduate School of Public and International Affairs: the London Academy of Diplomacy (University of East Anglia, UK);  Otago University (NZ) and at diplomatic training institutions around the world.  Consulting clients include the governments of Canada, New Zealand, Malaysia, Thailand, Quebec and numerous NGOs. He  serves as a peer reviewer for University of Toronto Press, the International Journal and The Hague Journal of Diplomacy, and is a member of the Editorial Board of the journal Place Branding and Public Diplomacy and the Advisory Board of the Canadian Foreign Policy Journal. From 2009-11 he was Adjunct Professor and Senior Fellow at the University of Toronto's Munk School of Global Affairs and in 2009 was a Research Fellow at the University of Southern California's Center on Public Diplomacy.
Mr. Copeland grew up in downtown Toronto, and received his formal education at the University of Western Ontario (Gold Medal, Political Science; Chancellor's Prize, Social Sciences) and the Norman Paterson School of International Affairs (Canada Council Special MA Scholarship). He has spent years backpacking on six continents, and enjoys travel, photography, arts and the outdoors.